BioHarvest has developed a patented bio-cell growth platform technology ("botanical synthesis") capable of harnessing the active & beneficial ingredients in fruits & plants. BioHarvest is working with "super star" nutrients found in red grapes, olives, and pomegranates. The company is developing the next generation of science-based, clinical trial tested and validated health-promoting solutions, in nutraceutical wellness products that will focus, in time, on specific medical indications.
Below is Dr. Brian Cornblatt's, BioHarvest Science's Chief Medical Officer's recent blog on the company's breakthrough innovations.
May 19, 2023
Biotech firm, recognized by Fast Company for "World Changing Idea," offers paradigm-shifting innovation
By Dr. Brian Cornblatt
The ancient Greek physician Hippocrates has been hailed as the father of Western medicine because of his revolutionary belief that food — not magic or "the gods" — was the best medicine. Considering the number of pharmaceutical drugs derived from plant molecules, Hippocrates' daring assertion seems prescient. And yet, the promise of his recommendation has struggled to reach its full potential.
Indeed, it is among the great vexations of our era: while the nutrients found in plants have enormous potential for aiding human health and wellness, it has been difficult to access this treasure. Tapping the full potential of the plant at industrial scale through agriculture only would be slow, wasteful, and expensive. In a word: unsustainable.
That's why it is worth taking a look at processes developed in a lab in Rehovot, Israel, by an innovative startup that has just been recognized by Fast Company on its annual list of "World Changing Ideas." The company, called BioHarvest Sciences, can effectively replicate plant cells that then reproduce at a speed not found in nature in patented liquid-filled bioreactors.
It would be hard to overstate the potential impact of this innovation – a paradigm-shifting breakthrough, unique at present to this company, which if applied widely could finally enable humanity to tap the power of the plant.
Although the company has also replicated olive and pomegranate cells, its main focus in recent months has been red grapes – whose "superstar" nutrient, Piceid resveratrol, is especially beneficial to humans, and extremely useful as a dietary supplement.
But the declining quality of soils in which plants and herbs are grown raise questions about the quality and potency of dietary supplements, in general. BioHarvest has eliminated that question by sourcing nutrients from botanical cells grown in bioreactors; not in farm- or vineyard-soil.
Having demonstrated the feasibility of its idea, the company then tackled an equally daunting task: Ramping up its output on an industrial scale.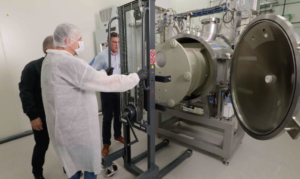 And it has raised the bar for all nutraceuticals by delivering clean and concentrated nutrients with benefits rooted in science and validated by human clinical trials.
"Our strong emphasis on botanical biology is what makes BioHarvest Sciences unique" in the nutraceutical industry," said Dr. Zaki Rakib, BioHarvest Co-Founder and Chairman of the Board.
Re-imagining bioreactors
Bioreactor technology has only been used to manufacture a very small range of biological agents (such as a vaccine and a chemotherapy drug). Plant-based nutritional supplements have never been manufactured in bioreactors because their operational costs have kept the nutraceutical industry on the sidelines.
But the bioreactor technologies invented and patented by BioHarvest have been deployed to launch its first nutraceutical, called VINIA, which contains the entire matrix of red-grape nutrients. Once they're placed inside a bioreactor, the selected red-grape cells are stimulated with artificial stimuli (such as agitation), which the cells "interpret" as survival threats.
In nature, plants respond to such threats—fungi, insects, ultraviolet radiation or some other stressor—by synthesizing secondary metabolites: polyphenolic molecules which can, in many cases, support human wellness, as well.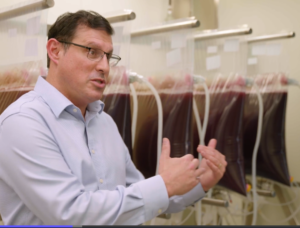 Also known as phytonutrients, the molecules accrue in sealed bioreactors filled with a proprietary mixture of minerals and other plant nutrition. Once the volume of polyphenols reaches a certain point, they are "harvested" from the nutritional medium—which is re-"planted" with fresh cells derived from the "one chosen fruit" which, during years of cross-breeding, and non GMO, was found to yield the greatest bounty of phytonutrients).
"Our bioreactors mimic conditions found in nature and nourish the cells with nutrients that are found in nature; so we are 'bringing nature inside'— and we never have to worry about soil composition or a fungus affecting the polyphenol content of our products," said Malkit Azachi, BioHarvest's VP of R&D.
Breakthrough innovations
The VINIA powder harvested from industrial sized bioreactors is now scaled to a 20 tons per year capacity, with further production growth planned, but the deployment of bioreactors to manufacture nutraceuticals from plant cells has required major innovations in the vessels' design.
Previously, such bioreactors have been constructed of glass or steel. While that offers durability, those materials bring with them daunting maintenance costs, especially for cleaning and sterilizing the vessels after they are emptied.
Sterilization is critical because the biological reactions sustained by the bioreactors occur in the presence of warmth, nutrients, and turbulence resulting from intentional agitation and oxygenation. As a result, the liquid in the bioreactors is a fertile medium for microbial growth.
Consequently, steel-or-glass bioreactors must be thoroughly cleaned and restored to sterility (and tested for sterility) before they are re-filled to repeat a manufacturing process.
The restoration of purity to glass or steel bioreactors is a time-consuming (and thus costly) process. In some cases, the costs are justified by the profits from the products they manufacture. But the costs are prohibitive for nutraceutical companies because of their generally-small profit margins.
BioHarvest has eliminated the necessity for frequent and costly cleaning cycles by using large-volume, disposable, polyethylene vessels for their bioreactors – specially designed to accommodate a wide range of critical functions.
For example:
Because metabolic processes (like the synthesis of secondary-metabolites) yield gases of one kind or another, the disposable vessels had to be designed with gas-exchange ports.
The vessels were re-designed with "harvesting ports" which enable the company to culture and harvest cells for two growth-cycles before a bioreactor is discarded.
To ensure that the cells growing in a medium can be "fed" or oxygenated, as necessary, the vessels were re-designed with inlets whose placement would ensure an even distribution of whichever inputs had to be added.
The nutritional 'superstar'
These bioreactors are currently being deployed to produce VINIA in mass quantities, and they will eventually be deployed to manufacture nutraceuticals containing nutrients grown by olive- and pomegranate cells as well.
"We aim to have multiple products in the marketplace as others enter and proceed through the pipeline," said Yochi Hagay, Chief Technology Officer.
Via VINIA, BioHarvest is the world's only company offering a "nutritional superstar" —Piceid resveratrol—in therapeutic amounts. What makes this phytonutrient special?
The answer is that the resveratrol or trans-resveratrol provided by other nutritional supplements has a very short half-life in the digestive system. Consequently, most of the resveratrol extracted from the usual commercial sources—knotweed or grape skins—is broken down long before it can pass through the gastrointestinal tract and into the bloodstream.
Piceid resveratrol, however, has a carbohydrate molecule bonded to its structure – an addition known as glycosylation – which enables it to enter the bloodstream perfectly intact just 20 minutes after a VINIA capsule is ingested, preventing its premature metabolism in the upper GI tract.
There is a simpler way to put it. Piceid resveratrol is believed to be responsible for the cardiovascular wellness exhibited by French people consuming enormous quantities of saturated fat—along with copious quantities of red wine. It's thought that the wine delivers enough Piceid resveratrol to offset the effects of all that fat.
So for those who prefer to skip the alcohol while benefiting from the entire matrix of red-grape phytonutrients, particularly Piceid resveratrol, the VINIA solution is one that Hippocrates would surely endorse. To paraphrase him: Let plants be thy medicine.
Dr. Brian Cornblatt is the Chief Medical Officer of Bioharvest.